Sweet and Dandy owns and devises Coastal Currents Arts Festival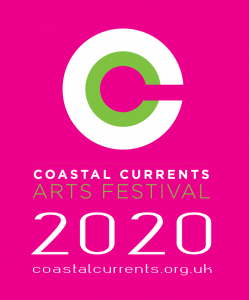 Coastal Currents 2020 went digital due to Covid-19
DIGITAL OPEN STUDIOS AND AUDIOTROPE were born.
Anyone can take part in this community arts festival by submitting a listing for a cultural event/exhibition or Open Studio.
See www.coastalcurrents.org.uk for more.
History…
Coastal Currents Arts Festival started in1999 by Hastings Borough Council. The lovely Penny Precious steered this crazy ship for a good few years until Creative Coast, made up of the incredible artist Lorna Crabbe and entrepreneur Sarah Yates took over. These guys were legendary with making Coastal Currents something really special, celebrating the uniqueness of this part of the coast whilst involving the whole community.
Tina Morris joined the team in 2011 helping shape the marketing and comms of the festival but eventually becoming a Director alongside Lorna Crabbe and the enormously connected, talented and visionary Jane Greenfield, who together made Coastal Currents into a household name in Sussex and beyond.
With events including Red Ladies, Willi Dorner, Beastie, and artists such as Kate McGwire, Frank Boelter, Rosemary Lee, Tod Hanson, Amy Sharrocks this team delivered Arts Council funded festivals year on year.
In 2017 Coastal Currents was fully handed over to Tina Morris and Sweet and Dandy Ltd, a specialist in Arts Marketing, PR and Events, going independent in 2019 from Hastings Borough Council.
The Festival now spans from Eastbourne to Robertsbridge to Rye and lots of places in between.
A combination of submitted events and Open Studios – through to a curated programme with strands including Street Art, Visual Art, Education, Professional Development, Live Performance, Exhibitions and Events.